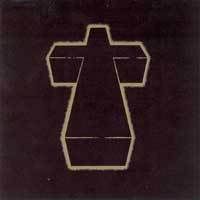 France, 2007.
Justice's debut album, also know as Cross. It's not often I'll post an electro house album, much less one with singles splattered across music channels and radios. But besides Michael Jackson tribute D.A.N.C.E. (you might not know it, but you almost certainly have heard it), this album happens to include some of the most mind shattering sounds of the year. Vocals aren't quite on par with the music, but fortunately they're few and far between. From funky opener Genesis to the incredible mashup that is Stress, this album hooks pretty much the first time you put it on.
Playlist:
1 - Genesis
2 - Let There Be Light
3 - D.A.N.C.E
4 - New Jack
5 - Phantom pt. I
6 - Phantom pt. II
7 - Valentine
8 - The Party
9 - DVNO
10 - Stress
11 - Waters of Nazareth
12 - One Minute To Midnight
Link.