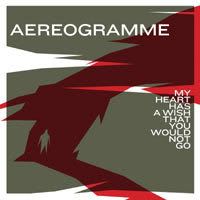 Scotland, 2007.
I suppose that Aereogramme can be described as alternative/progressive/indie/post-rock, although their sound is rather unique. The band has announced their split on May this year, so this is their last edited album.
Playlist:
1. conscious life for coma boy
2. barriers
3. exits
4. a life worth living
5. finding a light
6. living backwards
7. trenches
8. nightmares
9. the running man
10. you're always welcome
Link.