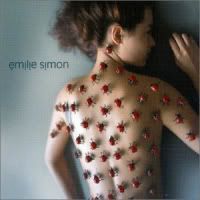 France, 2003.
Émilie Simon studied lyric singing at a Conservatoire for seven years before studying ancient music at the Sorbonne and later electronic music at the IRCAM. She concluded her advanced studies, obtaining her DEA in contemporary music. She is currently my favourite electronic artist, owning an astonishing voice and a style comparable to that of Anja Garbarek.
Playlist:
1. Desert
2. Lise
3. Secret
4. Il Pleut
5. I Wanna Be Your Dog
6. To The Dancers In The Rain
7. Dernier Lit
8. Graines d'Étoiles
9. Flowers
10. Vu d'Ici
11. Blue Light
12. Chanson de Toile
Link (MassMirror).