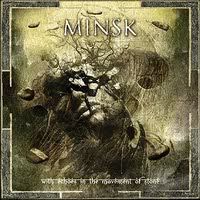 US, 2009.
"Located along the in-betweens of Chicago and Peoria, Illinois, and drawing its nominal inspiration from the Belarusian capital, nestled deep amidst the in-betweens of the East and the West, a city that has been burned to the ground on several occasions only to be rebuilt like a phoenix rising from its ashes, Minsk is an eclectic experience of passion, aggression, rhythm, noise, and trance. The music is as organic as it is other-worldly, infusing the rhythms of the earth and the resonance of the human voice with the synthetic sounds of machines, amplifiers, and effects."

Playlist:

1. Three Moons
2 The Shore of Transcendence
3. Almitra's Premonition
4. Means to an End
5. Crescent Mirror
6. Pisgah
7. Consumed by Horizons of Fire
8. Requiem: from Substance to Silence

Link.