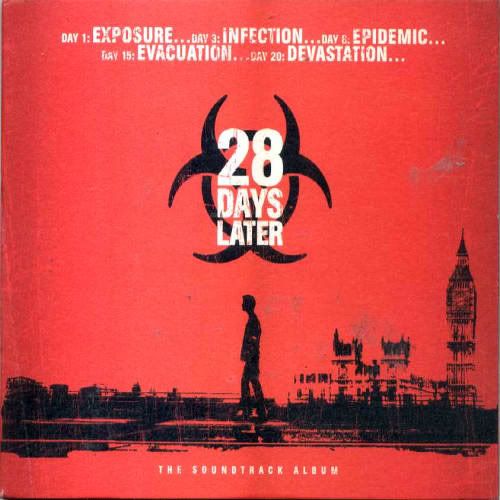 UK, 2003

You have probably watched 28 Days Later, and whether you liked it or not, I'm sure you've paid attention to the soundtrack. John Murphy creates a gloomy environment, adequate for the film, combining post-rock and electronic. He used a heavily edited version of Godspeed You! Black Emperor's track "East Hastings". However, the song was excluded from the soundtrack, because its rights were only obtained for the film.
Playlist:

1. The Beginning
2. Rage
3. The Church
4. Jim's Parents (Abide With Me)
5. Then There Were 2
6. Tower Block
7. Taxi (Ave Maria)
8. The Tunnel
9. A.M. 180 (Grandaddy)
10. An Ending (Ascent) (Brian Eno)
11. No More Films
12. Jim's Dream
13. In Paradisum
14. Frank's Death - Soldiers (Requiem In D Minor)
15. 'I Promised Them Women'
16. The Search For Jim
17. Red Dresses
18. In The House - In a Heartbeat
19. The End
20. Season Song (Blue States)
21. End Credits

Link.