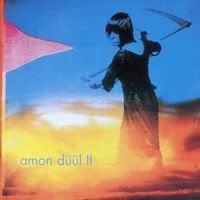 Germany, 1970.
Founded in 1969, in Munich, Amon Düül II are considered to be one of the founding bands of krautrock, as well as a milestone in german rock music. Yeti, their second release, is an experimental album, containing long, psychedelic and purely improvised tracks.

Playlist:

1. Soap Shop Rock a) Burning Sister b) Hallucination Guillotine c) Gulp A Sonata d) Flesh-Coloured Anti-Aircraft Alarm

2. She Came Through The Chimney
3. Archangels Thunderbird
4. Cerberus
5. The Return Of Ruebezahl
6. Eye-Shaking King

7. Pale Gallery
8. Yeti (Improvisation)

9. Yeti Talks To Yogi (Improvisation)
10. Sandoz In The Rain (Improvisation)

Link.