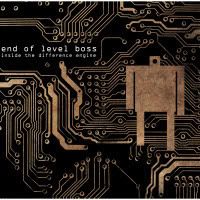 UK, 2007.
Contrary to what the name might suggest, End of Level Boss produce good stoner rock. The vocals sometimes hark back to AIC, so they're rather unfairly labeled a grunge band, when musically they're probably closer to Voivod. If you're a sucker for riffs you'll find plenty of promise here, and hopefully their third full length album will be out later tihs year.

Playlist:

01 - Selfish Negative Vibe Merchant

02 - Mr. Dinosaur Is Lost
03 - Reticence
04 - Corners
05 - Words Have No Meaning

06 - Instinktivitus
07 - End of Line
08 - Connortations
Massmirror.
rapidshare.