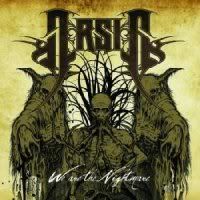 US, 2008.
Great melodic technical death metal is hard to come by, so it's no surprise Arsis' latest release is being hyped as a prime candidate for metal album of the year. The term melodic here may be misleading for some, so don't expect the cross-genre appeal of a band in the vein of Opeth. Despite occassionally exaggerating on the technical side, Arsis never really let their instruments overtake their songwriting and so are a lot more interesting than run-of-the-mill metal bands wanking their guitars for glory.

Playlist:

01 - We Are the Nightmare
02 - Shattering the Spell
03 - Sightless Wisdom

04 - Servants to the Night

05 - Failing Winds of Hopeless Greed
06 - Overthrown
07 - Progressive Entrapment
08 - A Feast for the Liar's Tongue
09 - My Oath to Madness
10 - Failure's Conquest
Massmirror.
rapidshare.