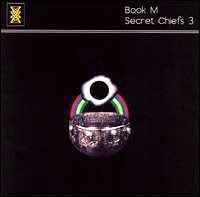 US, 2001.
Book M is the third studio album by Secret Chiefs 3, an experimental group led by composer and producer Trey Spruance, former guitarist of Mr. Bungle and Faith No More. SC3 comprise a various range of musical styles including surf rock, Persian, Arabic, Indian, death metal, electronic and film music.

Playlist:

1. Knights Of Damcar

2. Hagia Sophia
3. Vajra
4. Ship Of Fools (Stone Of Exile)
5. Horsemen Of The Invisible
6. Combat For The Angel
7. Zulfiqar III

8. Siege Perilous
9. Dolorous Stroke
10. Blaze Of The Grail
11. Lapsit Exillis
12. Lapis Baitulous
13. Safina

Link (MegaUpload).
Link (RapidShare).