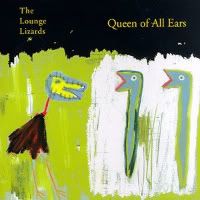 U.S., 1998
I really didn't know about John Lurie – or The Lounge Lizards for that matter – until a few days ago on a bus ride where this friend showed me some tracks off of this record. I stood amazed; great rhythmic/melodic constructions and such harmonies that left me staggered.
On the other hand, it is (not just) jazz – whatever that might mean to you – but music which I'm sure you'll find, at the very least, amusing.

Playlist:

1. The First and Royal Queen

2. The Birds Near Her House
3. Scary Children

4. She Drove Me Mad
5. Queen Of All Ears
6. Monsters Over Bangkok

7. Three Crowns of Wood
8. John Zorn's S&M Circus
9. Yak

10. Queen Reprise

Link.