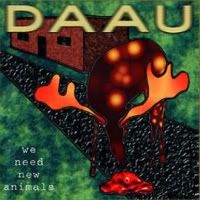 Belgium, 1998
This is a (strange but) beautiful album. DAAU (short for
Die Anarchistische Abendunterhaltung
) are a quartet comprising cello, violin, accordion and clarinet.
We need new animals
shows unsettling, and oftentimes progressive, but always meaningful soundscapes that will at times remain sharp or, at others, warm you up while you listen to it; it transcends genre.

Playlist:

1. No Rule

2. Hot Shades (My Medina)

3. Nix
4. Broken
5. Gin & Tonic

6. Oliphant
7. Waltz Delire

8. Traag
9. Dip 'n Dodge
10. Lady Delay
11. Lost Souls

Link.