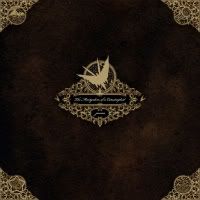 US, 2009.
Junius' new record is a full-fledged concept album, inspired by the life and theories of controversial scholar Immanuel Velikovsky. The album's ten songs are both cinematic and accessible, building to crescendos which echo some of post-rock's most epic moments, but with vocals, hooks, and lyrics creating focus throughout. Actual quotes from Velikovsky's interviews and lectures are interspersed between songs, providing a sense of narrative to the proceedings.

Playlist:

1. Birth Rites By Torchlight
2. The Antediluvian Fire
3. (turning to the spirits of the hours...)
4. A Dramatist Plays Catastrophist
5. Ten Year Librarian
6. Stargazers & Gravediggers
7. (...he fell before her)
8. Elisheva, I Love You
9. Letters From Saint Angelica
10. The Mourning Eulogy

Link.