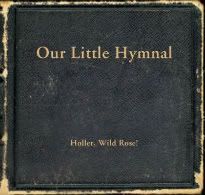 US, 2007.
"Named after the song that has become a landmark crowd favorite at their concerts - Holler, Wild Rose! features the sound of six (and sometimes seven) people who channel a range of melodic themes, reverberant guitars, shoegaze orchestrations, subtle to thundering rhythms, vintage textures and memorable bass lines as a setting for the expressive vocal melodies of John Mosloskie's unfettered, visceral voice."
Thanks to
André Lobão
for suggesting this one.

Playlist:

1. Holler, Wild Rose!

2. First Selah
3. Marylawn Hair
4. Mercy Beat
5. Captive Train
6. Poor In Spirit
7. Second Selah
8. Sun Vines

9. Thief In Our Bed
10. Color That Sky
11. Third Selah
12. Promise Braid

Link.