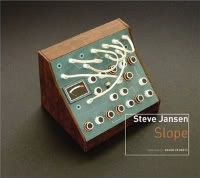 U.K., 2007
Okay. It's not exactly usual that an overall electronica album, for the sake of this shall we call it that, – and an excellently crafted at that one – surprises me anymore.
This album is beautiful. Shortage of words is a symptom: it is a calm album, but won't send you irritatingly
zen
all over the place; might reminisce of Chroma Key and the sorts but not as much cerebral, will simultaneously creep you out and delightfully craft a web around you when Anja starts singing
Cancelled Pieces
; will resonate, and not tire you out, let the acoustic and semi-philharmonic environment of
Ballad of a Deadman
speak for itself. From the glitchy
opener
Grip
, to the reprise of
Playground Martyrs
... and it sounds like I'm trying to sell the album.
Bless you, I'll restrain from picking favorites.
Brief background; Jansen was the drummer for extinct 70s act Japan and a frequent collaborator with his brother David Sylvian (also present on the album) and Porcupine Tree's Richard Barbieri, and has truly surprised me in a great way.
Aside the fact that the exploitedness of electronic music has tired our sensitive ears to voluntary deafness, grab this piece of waveform gold and let Steve Jansen along his panoply of overly talented guests and friends soothe you for a while.

Playlist:

1. Grip
2. Sleepyard (featuring Tim Elsenburg)
3. Cancelled Pieces (featuring Anja Garbarek)
4. December Train
5. Sow The Salt (featuring Thomas Feiner)
6. Gap Of Cloud
7. Playground Martyrs (featuring David Sylvian)
8. A Way Of Disappearing
9. Ballad Of A Deadman (featuring Joan Wasser and David Sylvian)
10. Conversation Over
11. Life Moves On
12. Playground Martyrs (Reprise) (featuring Nina Kinert)

Link.