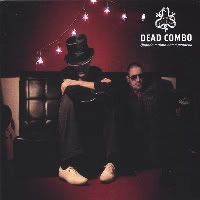 Portugal, 2006.
Dead Combo are a Portuguese alternative jazz band formed in 2002/2003 after a tribute to late guitarist Carlos Paredes. Their music mixes Fado with Spaghetti Western inspired music (especially the compositions of Ennio Morricone), jazz, alternative and world music.

Playlist:

1. After Peace, Swim Twice
2. Quando a Alma não é Pequena
3. A Menina Dança #1

4. Rodada

5. Ana (Strawb)
6. O Menino, O Vento e o Mar
7. Canja Voodoo
8. Mr. Eastwood

9. Ai Que Vida!
10. Aquele Beijo Eterno
11. O Assobio (Canção do Avô)

12. Despedida (Até Sempre)
13. Esperanza (Bounty)
14. Song For B.

Link.