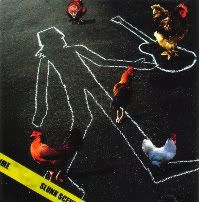 U.S.A., 2006
Having consciously neglected Buckethead for years, now I finally gave his music a try and was all but disappointed to devote some time to it.
Let's just say that Buckethead is plain freakish, and of course he knows it; he goes Morello squared on experimentalism when playing with the whammy, the killswitch and the pitch-shifting pedals – just like toys.
Being his 18th studio all along his record sheet,
Crime Slunk Scene
goes through a variety of textures mainly made out of killer riffs, craze, and some well-weighed masturbation.

Playlist:

1. King James

2. Gory Head Stump 2006: The Pageant Of The Slunks
3. The Fairy And The Devil

4. Buddy Berkman's Ballad
5. Mad Monster Party
6. Soothsayer (dedicated to Aunt Suzie)

7. Col. Austin VS Col. Sanders AKA Red Track Suit
8. We Can Rebuild Them

9. Electronic Slight Of Hand

10. Mecha Gigan
11. Slunk Parade AKA Freaks In The Black


Link.