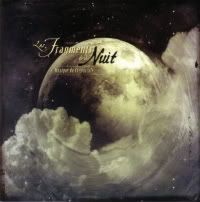 France, 2008.
Les Fragments de la Nuit is a french quintet composed of three violins, a cello and a piano. They often compose soundtracks for cinema, animation movies and documentaries. Their sound is very neoclassical, ranging from tragic to epic and atmospheric.

Playlist:

1. Eveil des Fées
2. Assault

3. La Ronde des Fées

4. Entre Ciel et Fer
5. Devenons Demain I
6. Devenons Demain II
7. Solitude
8. Solarisation
9. La Chambre des Fées
10. Soleils Noirs pour Lune Blanche

11. La Mélodie de la Tête
12. Le Château Enchanté
13. Le Scarabée Bleu
14. Soleils Noirs pour Lune Blanche - Tango
15. Les Eaux Dormantes
16. Alpha du Centaure

Link.