2009 was an incredible year for album releases. 2010... not so much.

Perhaps that is a slightly egoistic statement, but I felt that there just weren't that many memorable albums this year. Nevertheless, here are the few ones worth mentioning:

#10 - Agalloch: Marrow of the Spirit


November 2010, United States.
Combining the traditional elements of black metal, folk and post-rock altogether, Agalloch created yet another epic, dark and atmospheric masterpiece.
#9 - 65daysofstatic: We Were Exploding Anyway
April 2010, England.
"The band intersperses heavy, progressive, guitar-driven instrumental sections with both idm-esque programmed and live drums." This album, however, moved away from post-rock sounds and into elaborate electronics.
#8 - Arcade Fire: The Suburbs
August 2010, Canada.
I hadn't liked an Arcade Fire album this much since their debut, "Funeral". "The Suburbs" brings out a rockier and more layered sound than previous albums.
#7 - Efterklang: Magic Chairs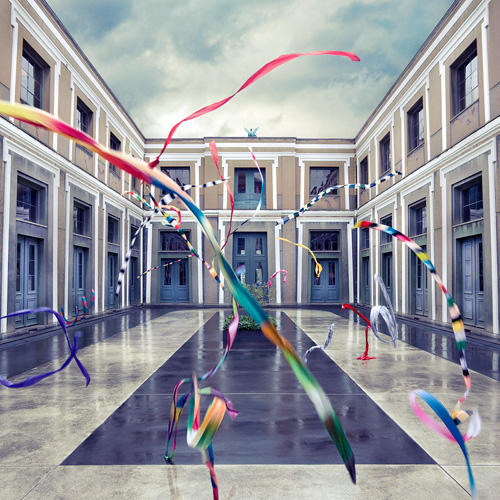 February 2010, Denmark.
"Magic Chairs" is Efterklang's most pop-oriented release yet. Whilst its compositions are admittedly less intricate than in previous releases, the album is filled with exquisite and alluring moments.
#6 - Caribou: Swim
April 2010, Canada.
Caribou is the stage name of Daniel Victor Snaith, a mathematician as well as musician. "Swim" was my first introduction to Caribou, but immediately got me hooked.
#5 - Amiina: Puzzle
September 2010, Iceland.
Amiina's second full-length album was definitely one of my most played records this year. "Puzzle" combines electronics with absolutely perfect chamber instrumentation.
#4 - Alcest: Écailles de Lune
March 2010, France.
A great successor to "Souvenirs d'un Autre Monde". A melancholic album that fuses black metal with shoegaze in a fantasy wonderland setting.
#3 - Kvelertak: Kvelertak
June 2010, Norway.
This was a pleasant surprise. Kvelertak's eponymous debut album introduced me to a genre I wasn't entirely acquainted with: black 'n' roll.
#2 - Les Discrets: Septembre et Ses Dernières Pensées
March 2010, France.
Catapulted by fellow French band Alcest, Les Discrets released their absolutely amazing debut in 2010. "Septembre et Ses Dernières Pensées" is a mix of shoegaze, post-rock and black metal that takes you to a surreal place filled with furry, whimsical creatures.
#1 - Crippled Black Phoenix: I, Vigilante
September 2010, England.
Hands down my most acclaimed album of 2010 and the driving force behind me wanting to do a 2010's Top 10. If you still haven't listened to this album, I urge you to do it now.